On November 12 from 9:00 a.m. to 5:00 p.m., the day preceding the ARCS Biennial Conference in New Orleans, attendees had the opportunity to share their expertise and help out fellow museum staffs by participating in Les Bénévoles, that is French for "The Volunteers".
Professional registrars and collections specialists volunteered for the day to help catch up on projects such as:
* accessioning
* condition reporting
* rehousing objects
Three New Orleans Institutions identified projects that would greatly benefit from Bénévoles help from ARCS members:
Beauregard-Keyes House and Garden Museum
The Beauregard-Keyes House has a collection of about 100 dolls and 100 fans that have been Improperly stored and poorly documented since they were accessioned in 1972. The staff has just completed the process of inputting all of the collection information into Past Perfect; however, the Condition Reports are out of date. A team will be doing condition reports on each doll and/or fan and properly storing them in acid free tissue and appropriate storage containers to keep them safe until they have the funds to restore and repair them.
The House is located in the French Quarter; a walkable 12 blocks from the Crowne Plaza Hotel.
http://www.bkhouse.org
The Hermann-Grima Historic House Museum
The first project at the Hermann-Grima Historic House Museum is to create a complete database of all the volumes in their research library. They do not have a space large enough to accommodate all of their books (roughly 800-1,000) in one location; instead, they are located in three different areas of the museum. Volunteers will help complete this spreadsheet on laptops which will be provided.
The second project involves some handiwork. Volunteers will help to protect the historic house surfaces from objects displayed on them by cutting and placing appropriately-cut pieces of Mylar/Melinex under all objects (vases, stemware, cutlery, etc.) to act as a barrier. Additionally, cut pieces of Volara would be placed between stacked dishes and porcelains to protect them.
The House is located in the French Quarter; a walkable 5 blocks from the Crowne Plaza Hotel.
http://www.hgghh.org
The New Orleans Museum of Art (NOMA) invites ARCS volunteers to spend the day in the Sculpture Garden washing bronze sculptures. There are approximately 30 accessible bronzes. Washing time per sculpture will vary, but most should take between 1.5 and 2 hours. Voluneers will be given directions and overseen by the Collections Manager and a Staff member. Washing the sculptures is easy (akin to washing a car) but requires standing, stooping, and scrubbing outside for the day; wear comfortable clothes and shoes. This project is somewhat weather-dependent, although November in New Orleans is usually lovely.
The Museum is located in City Park only a 15 to 20 minute drive from Downtown. There is also bus and streetcar transportation leaving just a short walk to the Museum.
http://noma.org
Thanks to our sponsors!
Questions about the ARCS 2015 Conference?
E-mail info@arcsinfo.org and
use subject line "ARCS 2015 Conference".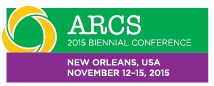 #ARCSConf