The at-a-glance schedule and session descriptions for the 2015 ARCS Conference held on November 12-15, 2015, at the Astor Crowne Plaza in New Orleans, Louisiana are available below.
Schedule - Updated 10/15/15!
2015 Preliminary At-A-Glance Schedule
Session Descriptions
2015 Preliminary Conference Program
A Call to Action! Live-tweeting the ARCS Conference
Through tweeting, we want to encourage each of you to add your active voice to the dialogues started at the ARCS conference. This session provides best practice guidelines on how to craft relevant tweets in response to conference sessions. Learn how to keep your followers engaged with what you're learning and help all of us create a parallel digital experience of the conference for the benefit of our colleagues unable to attend as well as the greater museum community. Bring your phone fully charged because after this presentation, you will be empowered to tweet, tweet well, and tweet ARCS!
The Fine Art of the Digital Condition Report
Traditionally, creating condition reports can be time-consuming and inefficient, but technology is ameliorating the process and rendering it more efficient. This session introduces new, dedicated programs and technologies and discusses the possibilities new tools present for creating more uniform and useful condition reports.
Emergencies: Preparing for and Responding to Collection Losses
Emergency preparedness is a critical part of collections stewardship, but the most challenging part can be getting started. This session looks at tools for transforming good intentions into a robust emergency management program and considers the importance of proper insurance coverage. Speakers recount their first-hand experiences insuring art collections and responding to losses.
What I Did on My Summer Vacation: Museum Cataloguing in Zimbabwe
This session explores a project to modernize the cataloging of the Stone Age collection of artifacts at the Zimbabwe Museum of Human Sciences. Amidst power outages, election campaigning, and visas threatened with non-renewal, the project saw 10,000 artifacts processed.
Career Stages and Professional Development: The Best New Old Thing
This session considers the ever-expanding range of employment opportunities in both the public and private sectors and the need for continuing professional development at all stages of your career. Topics include new trends and opportunities across the sector, networking and personal branding, business and financial skills, and management and leadership opportunities.
News from Europe
Registrars in many European countries have started working across borders to focus on common issues. This short session provides an update on what is happening in the various registrations groups in Europe.
Acquiring, Exhibiting and Caring for Contemporary Art InstallationsServing the needs of installation art frequently leads registrars, conservators, exhibition designers, and art handlers into a landscape of unpredictable demands. Few of the traditional rules for collection management apply when you are asked to decipher the exhibition needs of a never previously installed, ten-year-old installation art acquisition. This session highlights the challenges of recent large scale contemporary art installation management at The Museum of Modern Art.
You Got Your Social Media in My Collection Data!
You tweeted what? You can't Instagram that! Blogs behind the scenes? In this session speakers explore new platforms for share collection data; identify potential intellectual property, privacy, publicity, and security considerations; and use these platforms to promote collections-based work.
Courier Resolution Update
This session presents the results of a survey monkey on a Courier Resolution, along with a draft resolution. The acceptance of such a resolution brings us one step closer to standardization of museum courier practice and procedure.
What to Expect When You're Expanding: Pitfalls, Solutions, and How to Manage Your Move
As many museums rebound from the recession, expansion projects are becoming more common. When it comes to collections, what should be considered for an expansion? This session provides insights for those about to embark on a project or those already in the midst of one.
Hot Commodities: Latin American Logistical Insights
With its economic rise and numerous successful exhibitions featuring works from the region, Latin America is a hot destination for art collectors, biennials, and traveling exhibitions. The panel addresses current shipping procedures, relates personal experiences from both the museum and the commercial points of view, and advises on best practices to avoid frustrations that often spawn from misunderstandings.
On-Campus Loans: Balancing Stewardship, Tradition, and Politics
University museums and special collections are often asked to provide collection materials to campus locations including offices, housing, and public spaces. These locations on campuses often do not meet museum standards for security or environmental conditions; however, they may be occupied or administered by the same people who determine priorities, funding, and support for the museum and university at large. How do we demonstrate that we value both our collections and our working relationships?
The Black Star Collection at the Ryerson Image Centre: A Case Study on Crowd-Source Technologies
In 2011, as part of a larger cataloguing initiative, the Ryerson Image Centre (RIC) embarked on a venture with the company Tagasauris to apply keyword subject terms to digitized photographs from the RIC's Black Star Collection. This session summarizes the RIC's ongoing project with Tagasauris and addresses the advantages and disadvantages of the process. The discussion highlights issues related to authoritative language, best practices in cataloguing, and the pressures on cultural institutions to provide easily searchable digital content.
Rights & Reproductions: The Handbook for Cultural Institutions
Published in 2015 by the Indianapolis Museum of Art and the American Alliance of Museums, Rights & Reproductions: The Handbook for Cultural Institutions is the first comprehensive resource to focus solely on the rights and reproductions field. This session introduces attendees to the content of the Handbook and its production in the OSCI Toolkit.
Building Museums in the Gulf: The Louvre Abu Dhabi Conservation Building and The 3-2-1 Qatar Olympic and Sports Museum
Two new museums have recently been founded in the Persian Gulf area. One features a universal collection of artwork and the other a collection of objects relating to sport. Both require creating new buildings to meet conservation standards and developing the policies and procedures to manage newly acquired collections. This session examines the different paths taken by each institution during its founding.
Designing Your Insurance Program: Covering Risk from Every Angle
This presentation helps registrars and collections managers understand basic information pertaining to insuring collections. Attendees will gain knowledge of the fine art insurance world, develop an insurance guide specific to their collection, learn how to secure coverage for traveling exhibitions, protect their institution beyond the Fine Art Policy, and discuss real-life claims scenarios.
Shipping from / to China
As more exhibitions and cultural exchanges take place between China, the United States, and European countries, curators and registrars need to know how to deal with Chinese lenders and partners. This session discusses the culture, mindset, and standard operating procedures for working in China.
Developing an Ethnographic Lexicon - Part 2
Museums with ethnographic collections often develop their own lexicons to serve their specific needs. This session takes a second look at how to develop a common ethnographic lexicon that may be used in tandem with pre-existing lexicons like Nomenclature, the Getty thesauri and the National Park Service Standards.
Successful Implementation of Vibration Control During Museum Construction Projects
This session educates the audience on methods to successfully protect museums and artwork from vibrations caused by construction. Key steps include preconstruction planning and mitigation measures, selection of appropriate vibration limits, a project-specific vibration control specification, preconstruction surveys, field trials, construction-phase monitoring, and stringent protocols should near-limit events occur
Airfreight between the USA and Europe - A Challenging Adventure and the Solution
The past few years have seen many changes in airfreight options between the United States and Europe with new cargo airlines, new routes, and new safe airfreight regulations. This session presents the latest information on these topics.
Make It Work: Managing Time-Based Media Art
As world technology advances and seemingly grows sleeker and more user-friendly, time-based media art conversely grows in complexity. Institutions of all sizes and collecting scopes struggle to integrate this newer, growing art medium into their existing institutional workflow, procedures, and databases. Panelists will address a myriad of evolving concerns regarding creating, documenting, preserving, storing, displaying, and lending TBM art.
Understanding the New US Fish and Wildlife CITES and Endangered Species Act
New regulations for trade and traffic in various endangered species have resulted in sweeping changes to the old rules. This presentation describes the new regulations and how best to work with them.
Databases as Tools to Manage, Protect, and Recover Cultural Objects
This discussion compares public and private databases used in the identification, protection, and recovery of claimed cultural objects. Speakers provide their unique perspectives on three types of databases: the ArtClaim Database, operated privately by the London-based Art Recovery Group; the Catalogue of Polish Wartime Losses, maintained by the Polish Ministry of Culture; and The Museum System (TMS), used by registrars at museums worldwide.
Risky Business: Three Approaches to Assessing Risk in Collections Practices
Three presenters from different museums discuss risk management audits oriented towards collections, collections policies, and practices. Their topics include the ERM Method, use of an outside consulting firm and an internal University audit to assess potential risk in CMP, due diligence procedures, loan and exhibit contracts, acquisition procedures, and collections risks. Feedback from an outside perspective may be unsettling, but tales told and lessons learned ensure greater protection in all aspects of the museum.
Avoiding a Crash on the Indie Track
This session is devoted to independent professionals working on a contract basis. Three presenters with varying viewpoints discuss meeting clients' expectations and keeping them on course while avoiding a head-on collision with standards; identifying, training, and keeping good temporary art handlers as part of a pit stop crew; and greasing the wheels of a business as an independent contractor. A brief update on ARCS' OnContract initiative follows the discussion.
Partnering to Conserve: A Collective Mindset
This session focuses on the USFW New Director's recent Order #210, Import / Export Regulations on Elephant Ivory, and its impact on future traveling exhibitions in the U.S. and around the world. Three presenters from very different fields of expertise explore their unique perspectives and ideas on how the three fields can collaborate to conserve, educate, and facilitate future museum exhibitions and acquisitions containing Elephant Ivory and other endangered wildlife.
Special Concerns in the Care of Contemporary Works of Art
Three collections specialists discuss recent advances in conservation and materials knowledge, and the impact on collections care, specifically addressing the needs of oversized works, acrylic paintings, and outdoor sculpture.
Game of Clones: Unmasking the Forger
A forgery researcher and a scientist delve into the subject of forgeries, providing tips that museum professionals and collection managers will find useful in researching objects as well as techniques that can be used to differentiate genuine works from misattributions, fakes, and forgeries.
What on Earth Is SPNHC?
The Society for the Preservation of Natural History Collections (SPNHC) is an international society the mission of which is to improve the preservation, conservation, and management of natural history collections to ensure their continuing value to society. This short session provides a brief introduction to SPNHC and provides information about how to get involved.
Anchors Aweigh: Shipping by Sea
Shipping museum objects by sea raises many questions: what is marine insurance, what do underwriters think about shipping by sea, how must shipments be prepared and protected, and what are those sirens in Venice for? This session addresses these and other issues surrounding shipping by sea.
All Over the Map: Collection Management Issues for Works in Public Places
Collections professionals who care for objects located in public places are faced with a set of distinct challenges. This session identifies areas of concern for professionals from university galleries, outdoor collections, and municipal and state organizations, and for anyone who manages objects located in public spaces.
Questions about the ARCS 2015 Conference?
E-mail info@arcsinfo.org and
use subject line "ARCS 2015 Conference".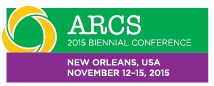 #ARCSConf