Session Reviews by Stipend Awardees
The Association of Registrars and Collections Specialists (ARCS), with the generous assistance of COOKE'S CRATING & FINE ART TRANSPORTATION, INC., offered travel stipends to assist eight (8) registrars or collections specialists to attend the ARCS Biennial Meeting in November 2015, in New Orleans, Louisiana, USA.
The Awards Committee (Irene Taurins, Andrea Wood, Mark Ryan, Holly Young and Diane Hart) reviewed an almost overwhelming response that required difficult decisions, as so many were qualified. Out of a strong field of candidates, we congratulate the following awardees and are pleased to post their session reviews for the ARCS membership.
Five ARCS members from North or Central America were each awarded $1,000 by COOKE'S CRATING & FINE ART TRANSPORTATION, INC.:
Batja Bell, Independent Registrar, East Orange, NJ
Avoiding a Crash on the Indie Track
Tiffany Charles, DuSable Museum of African American History, Chicago, IL
After the Alarm: Response, Recovery, an Advocating for Preparedness at your Institution
Jennifer Ortiz, Division of Arts and Museums, Salt Lake City, UT
Risky Business: Three Approaches to Assessing Risk in Collections Practices
Katherine Steiner, Mint Museum, Charlotte, NC
Rights & Reproductions: The Handbook for Cultural Institutions
Jenny Wilson, Vancouver Art Gallery, Vancouver, BC, Canada
Shipping from / to China
Three ARCS members from other parts of the world were each awarded $2,000 by ARCS:
Greg Hunter, National Sports Museum, Melbourne Cricket Club, Australia
What I Did on My Summer Vacation: Museum Cataloguing in Zimbabwe
Ploypailin Thapepong, Queen Sirkit Museum of Textiles, Bangkok, Thailand
On-Campus Loans: Balancing Stewardship, Tradition, and Politics
Shae Trewin, Museum of Transport and Technology, Auckland, New Zealand
What to Expect When You're Expanding: Pitfalls, Solutions, and How to Manage Your Move
Questions about the ARCS 2015 Conference?
E-mail info@arcsinfo.org and
use subject line "ARCS 2015 Conference".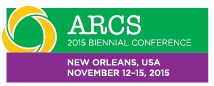 #ARCSConf